Here's a lady's perspective, minus the car-lingo / by Joy H.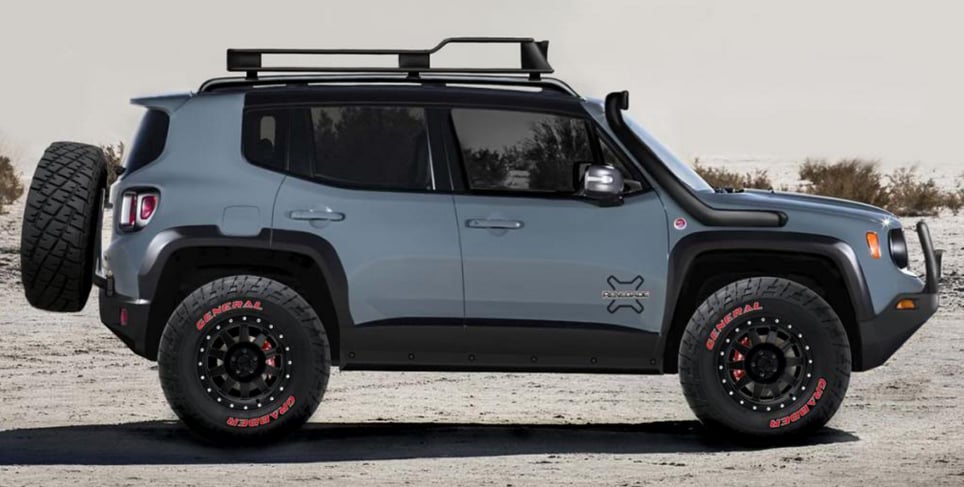 "Empowering a new generation of adventure-seekers"
For the purpose of this review, understand that this is written from a city-driver's perspective. I like the adventure and freedom associated with the Jeep brand, but off-road capabilities are simply bonus features when I'm car shopping. I value a reliable vehicle – I want transportation that achieves decent gas mileage, I can easily throw golf clubs in the back, handles well in snow, and simply looks good.
When I first saw the Renegade I thought, "That's a Jeep I could drive." It's smaller than the rest of the Jeep line-up but doesn't in any way resemble the station wagon-look of other SUVs. Other sources have called it the "capable" sub-compact crossover, and starting at an MSRP of $17,995 I think it's a great option for a starter-Jeep, a millennial or empty-nest city-driver, first-time drivers, and others.
Basics:
Seating for 5 passengers

MPG: Up to 24 city / 31 highway*

Built in Italy

Part of the Jeep line-up since 2015
Price:
Sport From $17,995

Latitude From $21,395

Limited From $24,995

Trailhawk From $26,495
Here's a great graph that breaks down 2016 Renegade options or trim-levels. The 2016 Jeep Renegade is available in four versions with FWD (front wheel drive): Sport FWD, Latitude FWD, 75th Anniversary Edition FWD, and Limited FWD. If you prefer a 4x4, there are six to choose from: Sport 4x4, Latitude 4x4, 75th Anniversary Edition 4x4, Limited 4x4, Trailhawk 4x4, and Dawn of Justice Special Edition 4x4. Generally speaking FWD is lower in price and 4x4 is better in the elements (snow, sand, mud.) The Trailhawk 4x4 is the only of the bunch that is Trail Rated, or tested and certified for it's off-road capability.
Jeep's special edition "Dawn of Justice" model was inspired by Batman v Superman: Dawn of Justice. Before the non-superhero enthusiasts roll their eyes – it is a super-sleek looking vehicle. The carbon black, 18" gloss-black wheels and black-on-black interior are totally up my alley. The only true movie reference is a small commemorative plate on the back.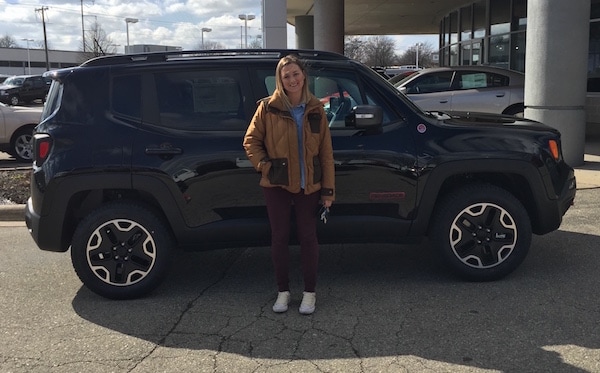 I test drove a 2016 Jeep Renegade Trailhawk 4x4 in black. My top 5 favorite features:
1. Safety: The National Highway Traffic Safety Administration rates the vehicle 4-stars. Jeep also boasts 70 available safety and security features on the Renegade. Here is Cars.com's full review with specs and NHTSA Crash-Test Ratings for the 2016 Jeep Renegade Latitude 4dr 4x4.
2. My-Sky: The My-Sky option is a retractable and removable two-panel roof.
The front panel is controlled electronically and the rear is simply removable.
Best of all, the panels are light enough to remove without help.
3. Height: Some have compared the Renegade's appearance to the Kia Soul. While the square lines are similar, the Renegade stands taller maintaining its qualification and authority as a subcompact crossover.

4. Playful, yet Capable: Beyond the fun MySky feature, the Renegade has a variety of fun features including a breadth of exterior colors, fun pops of color in the interiors, and "Easter Eggs" or hidden graphic elements that add to the Jeep's story. The vehicle was awarded Ward's 10 Best Interiors of 2015. Without sacrificing the character of the model, the Renegade maintains Jeep capability with both AWD and 4x4 options.
5. Brand: There's something about the brand reputation of the Jeep. This year Jeep celebrates their 75th Anniversary. From the SuperBowl "We Don't Make Jeep, You Do," campaign to their upcoming #MyJeepStory initiative, the brand is connected to the Jeep community and proudly showcasing their loyalists' stories and brand-pride.
To use Jeep language, the 2016 Renegade is "empowering a new generation of adventure-seekers." I think they've accurately offered a vehicle that's likely to do just that. The Jeep Renegade is practical and affordable, yet encourages fun with its playful features and adventure-capabilities.
Extreme Dodge has a variety of 2015 and 2016 Jeep Renegade inventory available. Contact the team at Extreme Dodge Chrysler Jeep Ram with questions or to set up a test drive.
*applies to the 2015 Jeep Renegade, 2016 stats/rankings are not yet released.