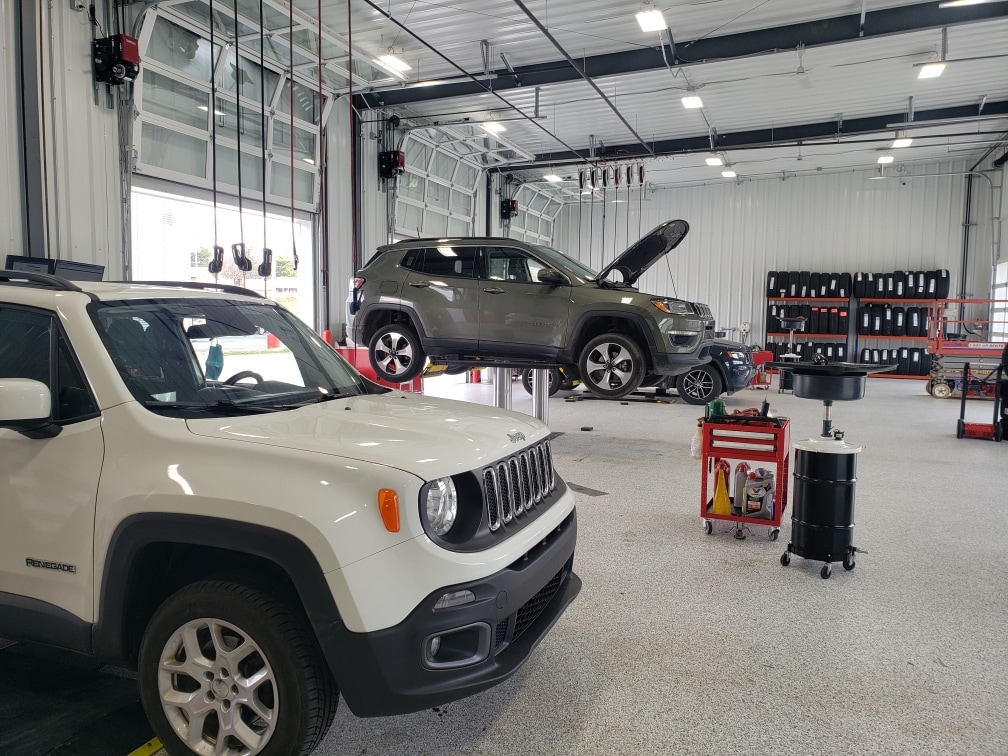 Click on one of the people below to find out more information.
We have affordable oil changes at Extreme Dodge Chrysler Jeep RAM with versatility!
Excellent variety of oil change packages
At Extreme Dodge Chrysler Jeep RAM in Jackson, we are giving you the opportunity for an oil change that is top notch with extensive options based on the type of vehicle you have. We operate with the highest level of service as our certified mechanics recognize which package is right for you. It can be tough to deliberate which package is right, but that's why we will consult with you on the right option, so you're safe and sound on the road and running smoothly for miles to come! You can learn the intricate details of some of the oil-changing package options here: Coupons for Mopar Parts And Service | Extreme Dodge Chrysler Jeep (extremedodgedodgetruck.com), and we are excited to give you the best services in the industry at Extreme Dodge Chrysler Jeep RAM today. We offer you the right insight into your particular vehicle so you won't have to worry about anything breaking down, and we also stress the importance of changing your oil regularly with our services, so it's done right every time. There are certain advantages to hiring our servicing professionals to handle your car that goes above and beyond what conventional shops offer, and you will recognize the difference in our expertise.
Affordable oil change options
At Extreme Dodge Chrysler Jeep RAM, our prices are reasonable and almost a steal for the high-quality services we offer with incredible attention to detail that will keep your car running efficiently for a long time. We understand that Jackson customers are on a budget, and that's why we give you affordable pricing across all oil-changing endeavors. It's necessary to keep the lifeblood of your car coursing through its veins, and we are the right doctors to get things working well, so your vehicle remains in good health. You will find only certified professionals here to meet your needs and bring your vehicle back to a higher standard. You can leave our shop with confidence knowing you got supreme oil changing services for the best price on the market. We are the better option than alternative methods because our team will get the job done right each time with reliable results. Don't settle for less with conventional methods when you visit Extreme Dodge Chrysler Jeep RAM today to establish a connection and get your vehicle in working order. We offer you sound results that you will be able to feel when you drive it after the job is complete!
Semi-Synthetic brands and Tire price match
We offer you three semi-synthetic blend oil changes for $70 and are honored to service your vehicle with a smile knowing that we are saving you money and giving you optimal results. Our attention to the details ensures that your car will get the right oil change as we give you great suggestions given the type you have. Each brand will serve different purposes, so you need professional consultation to ensure you're getting the right service to handle your commute. Many people will settle for less, and we are all about keeping you informed for the long term regarding continuity across your oil changes. We will also give you a tire price match to gain perspective regarding the current market. Knowledge is essential when dealing with your tires, and if there's a better deal out there, then we want to be fully aware of it so we can match it for you. We operate with integrity at Extreme Dodge Chrysler Jeep RAM, and there are many servicing opportunities here for you to capitalize on. It warms our hearts to keep your vehicles healthy for the long term with the correct services here! Be sure to check out our available coupons as well!
Hours
Monday

07:30AM - 06:00PM

Tuesday

07:30AM - 06:00PM

Wednesday

07:30AM - 06:00PM

Thursday

07:30AM - 06:00PM

Friday

07:30AM - 06:00PM

Saturday

07:30AM - 01:00PM

Sunday

Closed
| | | |
| --- | --- | --- |
| WHY YOU SHOULD USE A MOPAR OIL FILTER | HOW PENNZOIL SYNTHETIC OIL CAN IMPROVE YOUR GAS MILEAGE | WHAT IS PUREPLUS TECHNOLOGY AND WHAT CAN IT DO FOR YOU? |
| CAN WORN TIRES AFFECT YOUR STOPPING DISTANCE | WHY IT'S IMPORTANT TO ROTATE YOUR TIRES | WHY YOU SHOULD MAINTAIN YOUR TIRE PRESSURE MONITORING SYSTEM |
| IMPROVE THE AIR QUALITY INSIDE YOUR VEHICLE | HOW OFTEN SHOULD YOU REPLACE YOUR WINDSHIELD WIPERS? | WHY YOU SHOULD CHECK YOUR SHOCKS |
| WHY YOU SHOULD HAVE YOUR VEHICLE INSPECTED EVERY SPRING | THE BENEFITS OF MOPAR | THIS IS MOPAR |
| CHEROKEE ACCESSORIES | WRANGLER ACCESSORIES | RAM ACCESSORIES |
| MOPAR MAKES WHAT YOU WANT | ALL IN SERVICE OF THE PEOPLE WHO DRIVE US | |
|   |   | |
Contact
Extreme Dodge Chrysler Jeep
2300 Seymour Road
Directions Jackson, MI 49201-8877

Service

:

(517) 879-0003